The main aim of drying fruits is to deliver the product to far clients and maintain the goodness value at the same time. Fresh apple doesn't last long unlike the dried type. It is easy for most people to buy dried apples from any stores and it is also possible for you to keep them for a long time. If you live in a country or an area without dried apple, you can buy them from website and you still keep it for long after a long ship. Apples are widely used in many kinds of foods. We are therefore going to look at some of the dried apple fruit recipes.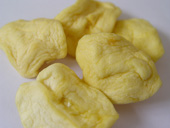 Sugar free apple crisp: this bulk dried fruits recipe is liked in most countries as a dessert and you can serve quite a number of people to satisfaction. It is better for you to take eight to ten pieces of the dried apple. Make sure they are cored and cut into chunks. Juice squeezed from one lemon fruit, a quarter cup of sunflower seeds, quarter cup of chopped walnuts, quarter cup of dried raisins or can substitute with dried cranberries or blue berries, quarter cup of all purpose flour, half tea spoon ground ginger, half cup orange juice, half tea spoon salt, half cup butter, a third cup of honey, two tea spoon cinnamon half cup orange juice and two cups rolled oats.
recipes from dried apple fruits
To make the sugar free apple crisp you need to follow these steps. At first, you should spray casserole with non sticky oil and pre heat the oven until 374 degrees. Once the dried apples are placed in a bowl, sprinkle them with the lemon juice you squeezed from the lemon, spread half on the casserole dish. Melt the half cup butter using the microwave for one minute. Add the melted butter into a mixing bowl and add the chopped walnuts, the sunflower seeds, the cranberries or the available berries, honey, flour, oats and the salt. Spread the mixture on top of the apples. Cover with the other half you had remained in the mixing bowl and then the other remaining oats mixture. Pour the orange juice on top of the whole mixture. The last step is to place the dried apple fruits recipe in an oven to bake for forty to fifty minutes. . It can be served warm or refrigerated.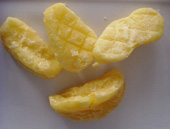 Apple pie filling: you need half pound diced apples, two to three cups of water, half teaspoon nutmeg, quarter teaspoon cloves, one teaspoon cinnamon and sugar or sweeteners. Mix dried apples with water in a heavy saucepan and cook it under low heat and let it simmer while covered. It should simmer until the apples have thick preserves. The heat should not be too high and water can be added if required. The mixture should be stirred periodically to avoid burning. Once you reach the consistency you require, turn off the heat and stir and add sugar to taste. Placing it in a refrigerator can be kept for one week at least. As a perfect snack, apple pie filling is ideal for family gathering and friends' party.